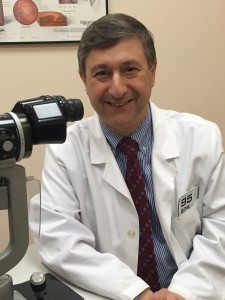 George J. Florakis, M.D. is currently a Clinical Professor of Ophthalmology at Columbia University Medical Center and director of the Cornea Clinic of the Edward S. Harkness Eye Institute in New York. His areas of expertise are in cornea and external eye diseases including: corneal transplants, corneal dystrophies and degenerations, ectasias (keratoconus), infectious diseases such as herpetic (viral) and bacterial keratitis, and anterior segment trauma and reconstruction.
A graduate of Columbia College, Columbia University in New York, Dr. Florakis attended medical school at Columbia's College of Physicians and Surgeons. He completed his residency training at the Edward S. Harkness Eye Institute at Columbia Presbyterian Medical Center. His fellowship in corneal and external eye diseases was conducted with Dr. Jay Krachmer at the University of Iowa.
Dr. Florakis is a member of the national Eye Bank Association of America, the American Academy of Ophthalmology, the American Medical Association, New York State Medical Society and the Northeast Cornea Society, among others. He is presently the Chairman of the Medical Advisory Board of the Eyebank for Sight Restoration. An author and editor of several publications including Ophthalmic Essentials – Blackwell Scientific Publications and Night Vision after Refractive Surgery – American Journal of Ophthalmology, Dr. Florakis enjoys actively teaching medical students, residents and Corneal Fellows at the Edward S. Harkness Eye Institute of Columbia University.